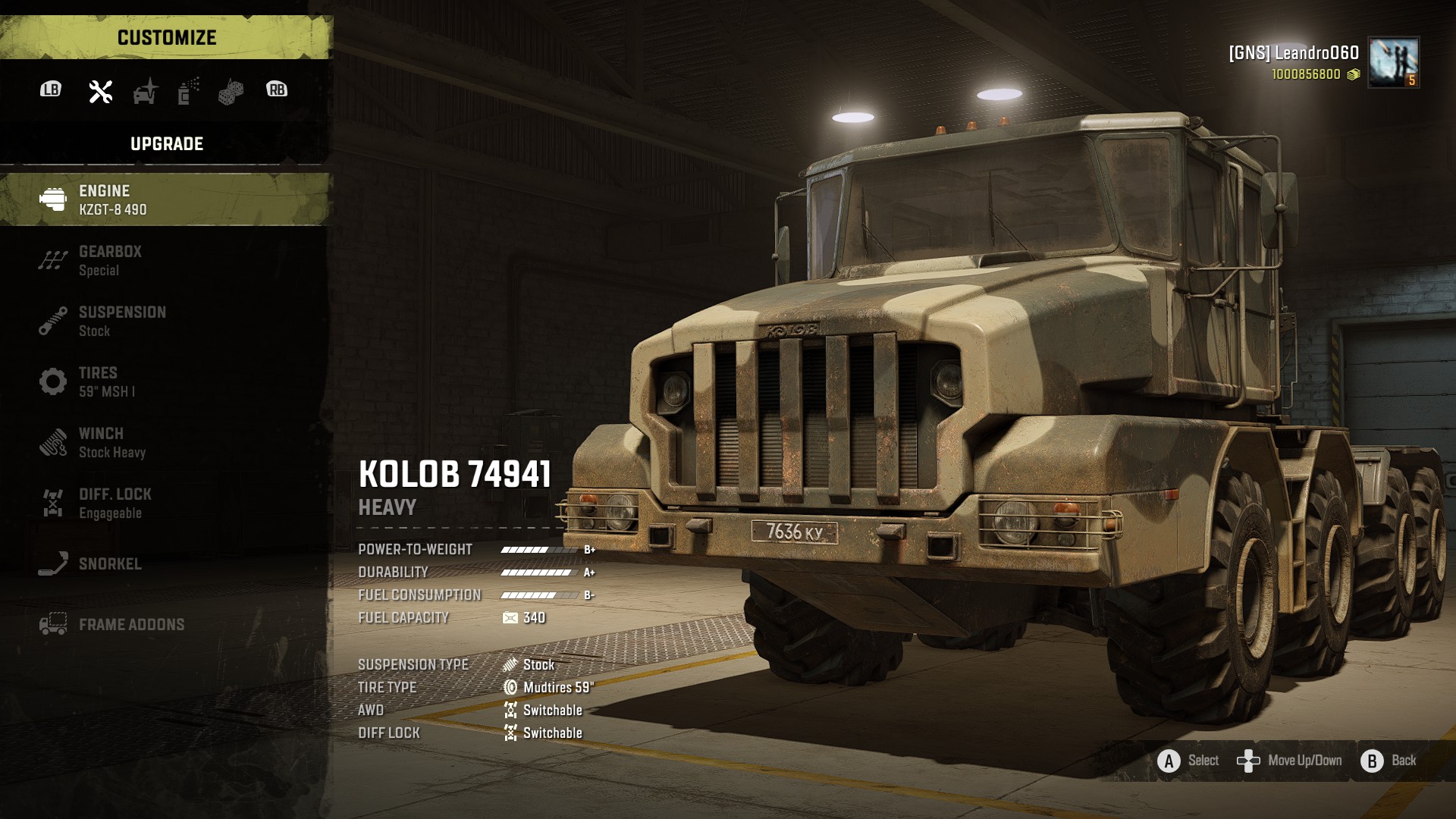 Name: Kolob 74941
Price: 118200 Cr
Region: Russia
Off Road: 10/10
Hauling: 8/10 because it can only use heavy trailers
Comment: The almost-twin brother of the previous KOLOB. The main differences are the looks and the fact that this one can activate and deactivate both AWD and Diff Lock while on the other truck they're always on. Oh and this one has a huge nose in the front, you may want to watch where you are going to avoid awkward situations.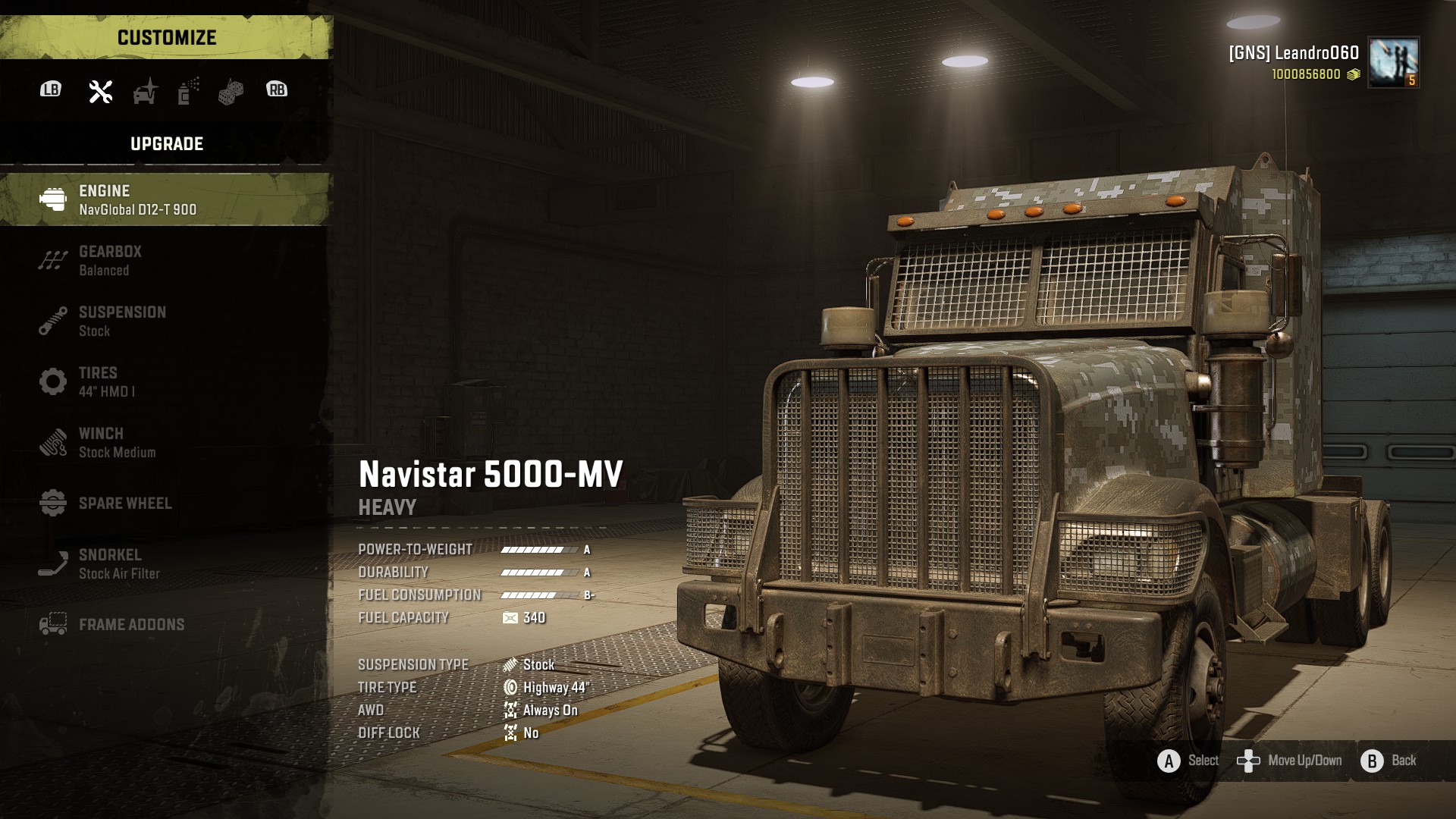 Name: Navistar 5000-MV
Price: 140100 Cr
Region: USA
Off Road: 7-8/10
Hauling: 8/10
Comment: A great truck. An hauler through and through. May lack the Diff.Lock for tougher situations (in deep mud can get easily stuck), but most of the time it just rolls thanks to its big wheels and high amount of torque. You may need to watch out for fuel, as it can consume north of 30 Liters/min making the truck useable for a mere 10 minutes.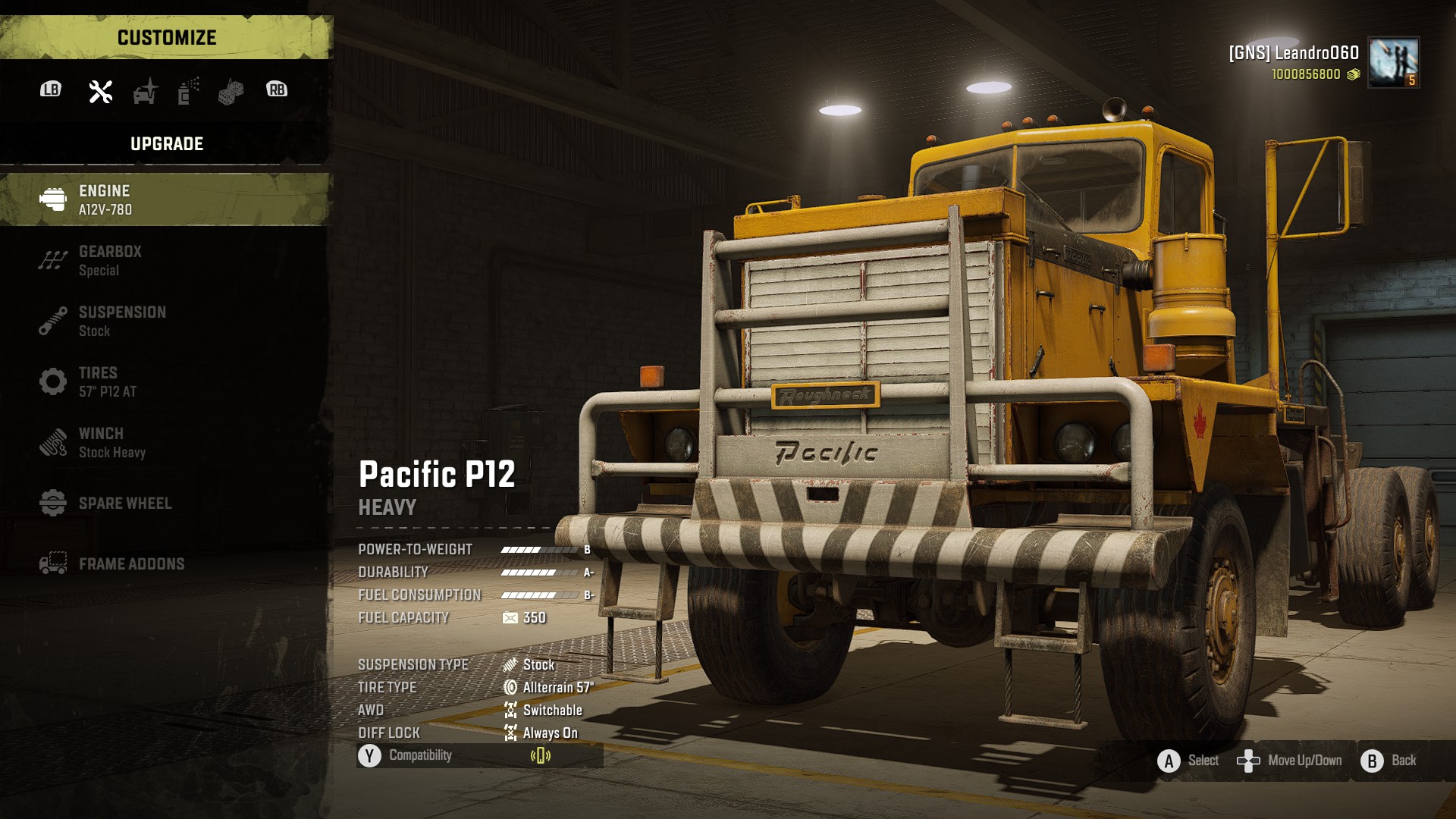 Name: Pacific P12
Price:126600 Cr
Region: USA
Off Road: 8-9/10
Hauling: 8/10
Comment: A true jack-of-all-trades. Can and will do it all, provided you got the patience. Has good torque but its slow, and thanks to that, it sometimes can't get enough inertia to get through mud easily. Makes a great rescue truck thanks to the relatively good efficiency (compared to other heavies) and the availability of the big maintenance addon. Although, stay clear of deep water, it has no snorkel available.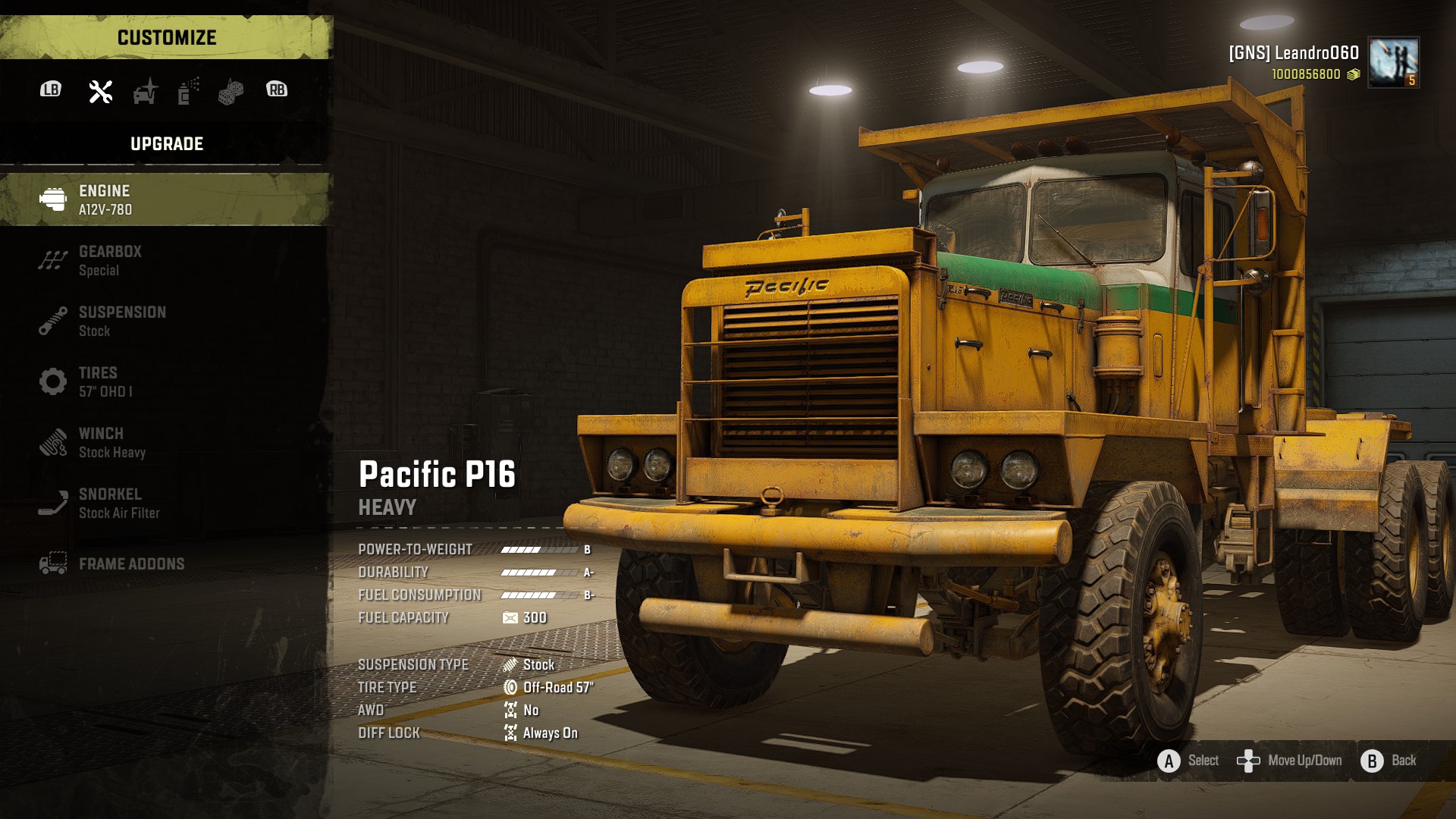 Name: Pacific P16
Price: 140700 Cr
Region: USA
Off Road: 8/10 due to lack of AWD
Hauling: 7/10 since it can only haul either logs or heavy trailers
Comment:
Big Daddy
.
Barn On Wheels
. Two of the many nicknames for one of the most unique trucks ingame. Its slow, needs a day or two to turn, it's the second heaviest truck ingame and you can't change its wheels. But it's one of the few handful of trucks that can move anything even in the worst mudpits. Will need the winch from time to time to regain inertia though. Also it has the BEST horn in the biz, trust me. Unfortunately on ice it'll lose traction in a snap, so keep it where it's at its happiest: MUD and DIRT.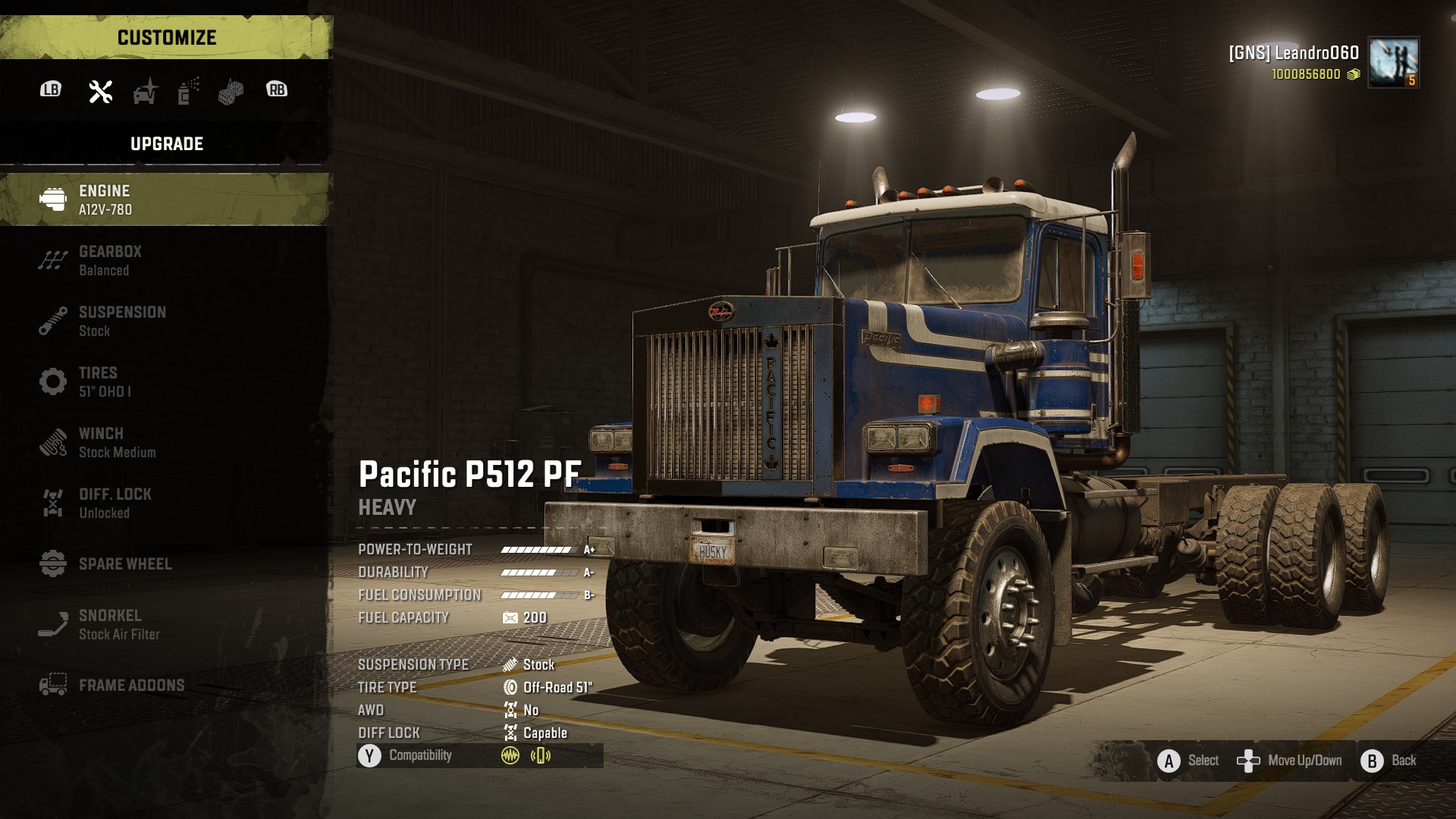 Name: Pacific P512PF
Price:135000 Cr
Region: USA
Off Road: 7-8/10
Hauling: 8.5/10
Comment: A good and very powerful hauler. Compared to the P16, here the lack of AWD is more noticeable, and like its other Pacific brothers, without inertia it gets stuck. Great for hauling long logs thanks to its ability to mount both the log crane and the long logs addon. Compared to other heavies, has a very small fuel tank. Also, like the P16, lacks the ability to change tires.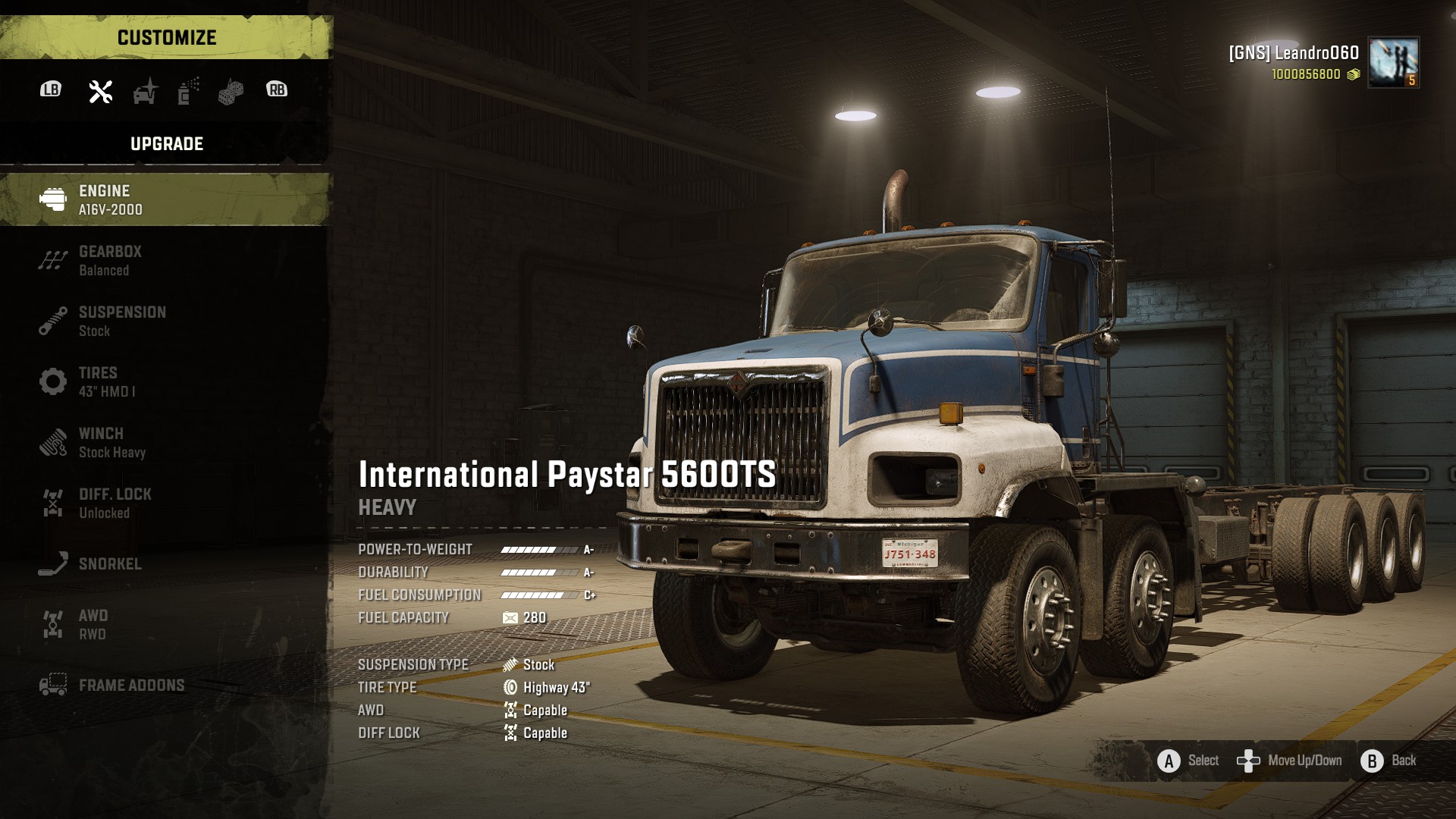 Name: International Paystar 5600TS
Price: 126600 Cr
Region: USA
Off Road: 9/10
Hauling: 9/10
Comment: The american cousin of the Azov 73210. Just as powerful and even more versatile since it's the only truck ingame able to mount a van body addon AND a low saddle. It WILL tear through mud easily, but will last mere minutes due to the extreme fuel consumption. Good thing you can bring along a fuel trailer if needed right? Unfortunately, it has a terrible turning radius and a relatively high gravity center, making it prone to tipping.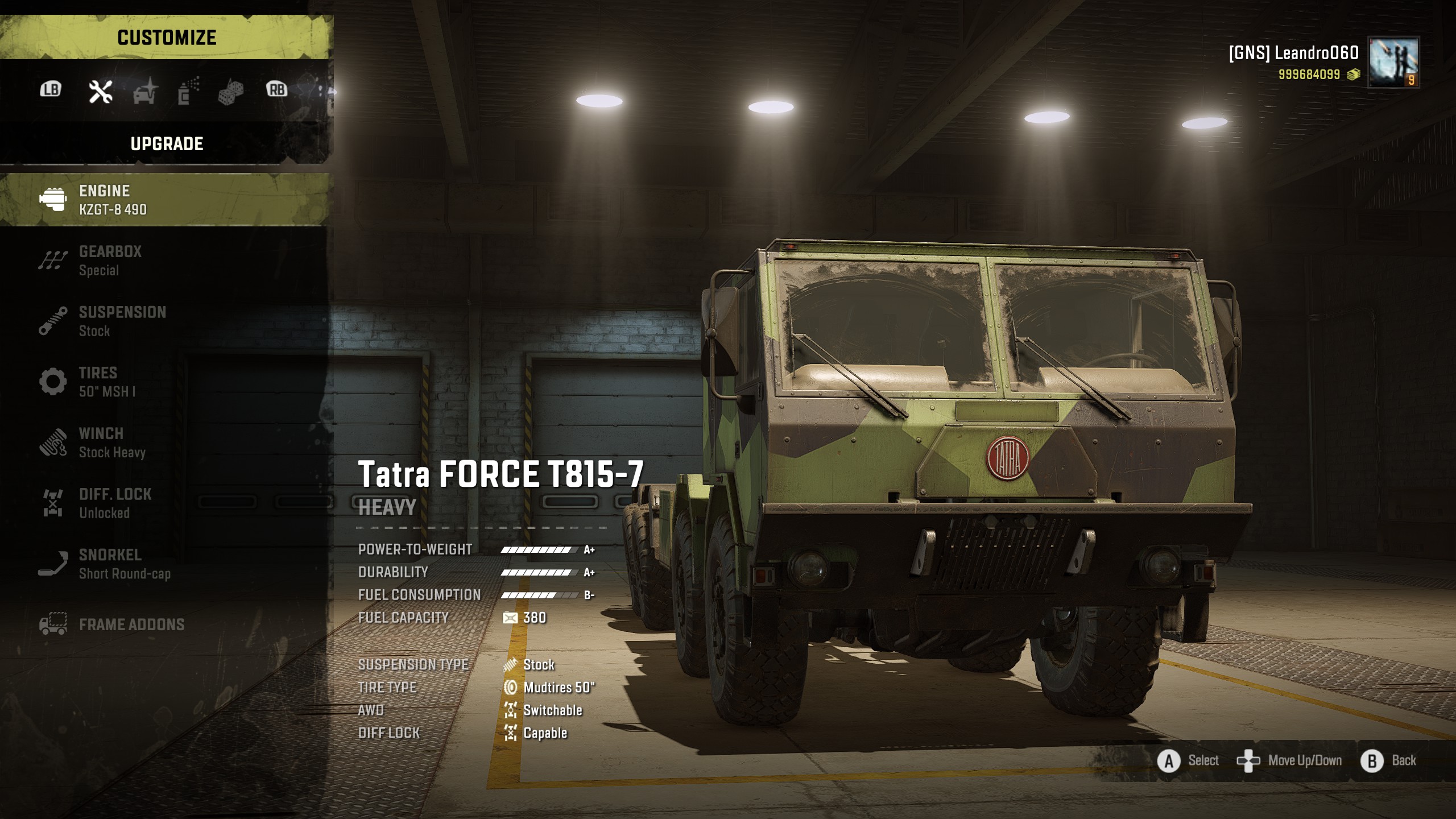 Name: Tatra FORCE T815-7
Price: 211000
Region: Russia
Off Road: 10/10
Hauling: 8/10
Comment: Basically a T813 with a longer chassis and more addons. What it loses in fuel efficiency and agility, it gains in hauling and versatility. Has a unique rescue/recovery addon. The available torque is brutal and the tires are equally effective, unfortunately the turn radius is worse than its older brother (the T813) due to the longer chassis. And as every other Tatra truck, has that
finger lickin' good
suspension system, granting nigh unrivaled suspension flex and agility.
Extremely
expensive to buy. Also has available to buy the (probably) most powerful compact crane in the game, and can be used in the "Sideboard+Sideboard+Crane" configuration too! Be aware that like the other Tatra trucks so far added, it is locked behind the Year 2 Pass.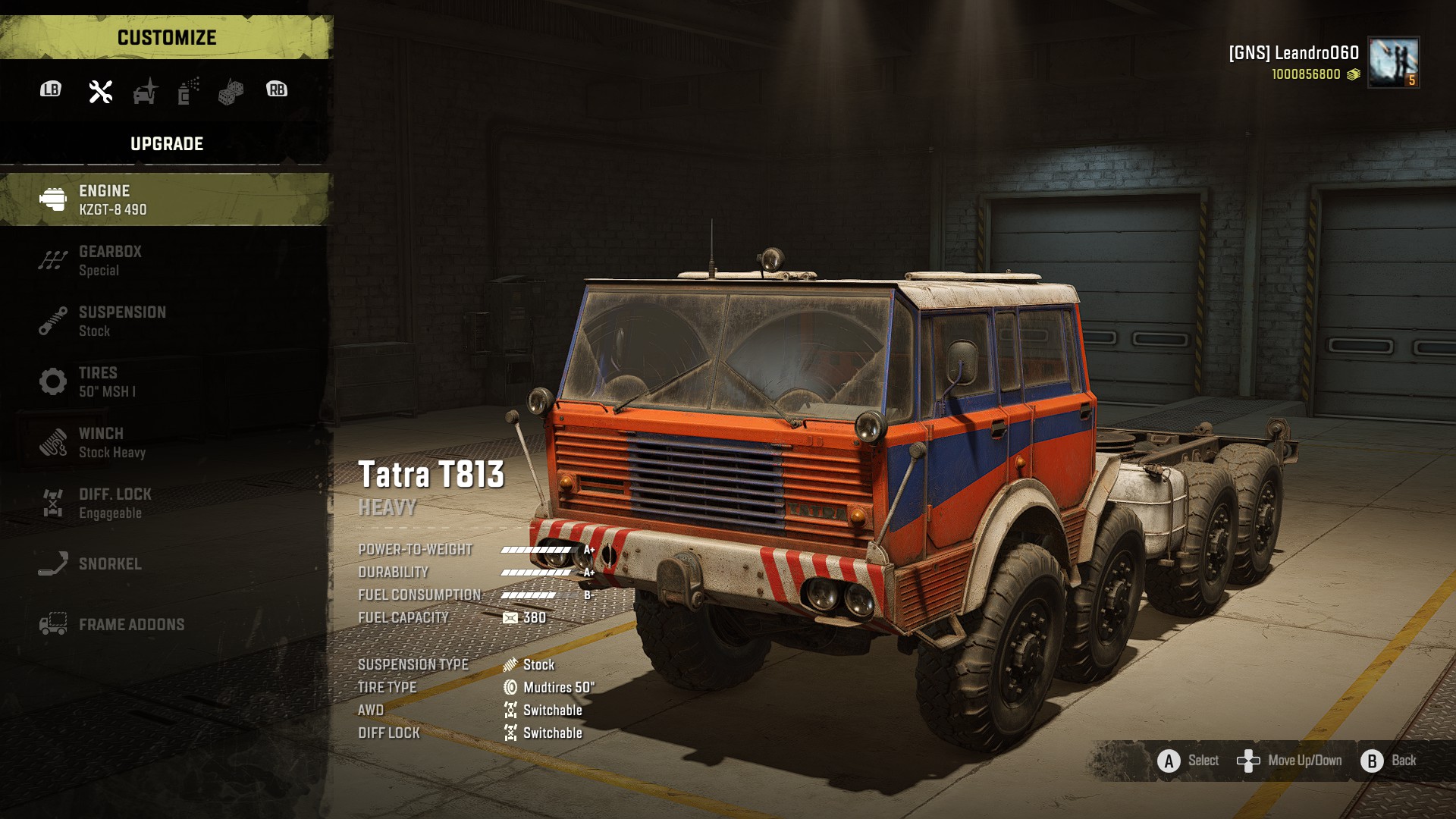 Name: Tatra T813
Price: 202501 Cr
Region: Russia
Off Road: 10/10
Hauling: 8-9/10 with sideboard bed+trailer; 7-8/10 with heavy trailers
Comment: It's a friggin' TATRA. Period. If you know your trucks, you know what i'm talkin' about. If not, keep reading. Tatra is the third oldest car(until 1999) and truck maker
IN THE WORLD
, they know how to build an off-road truck and this here is the proof. An 8x8 cold war legend. Won't stop in front of nothing, burns A LOT less fuel than most other heavies and has the best independent suspensions in the biz.
Downsides? Extremely expensive, with heavy trailers it'll struggle on steeper hills and very deep mud and doesn't have the best ground clearance. PS: if it wasn't clear enough, it's my fave truck both IRL and ingame.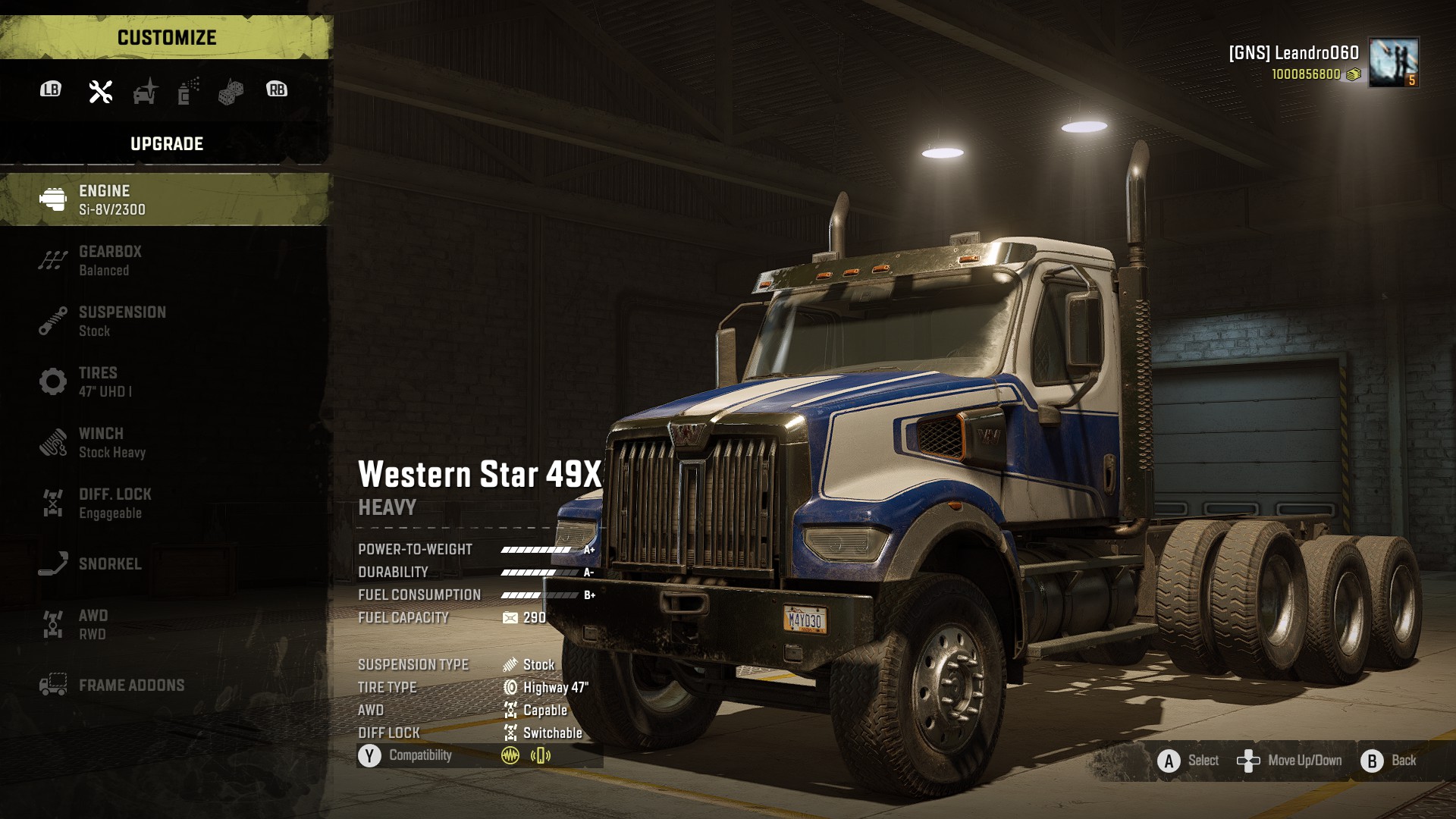 Name: Western Star 49X
Price: 140700 Cr
Region: USA
Off Road: 7-8/10
Hauling: 8-9/10
Comment: An heavy duty truck on serious steroids. Has a powerhouse under the hood, with a HUGE amount of torque (can mount the second most powerful engine for american trucks). The lift axle drags in deeper mud, but on most surfaces gives a sizeable boost to ground clearance. Can basically haul anything but uses a bit too much fuel doing so. Oh, and like many american trucks, it lacks proper mud tires, but thanks to that monster engine you won't miss 'em that much.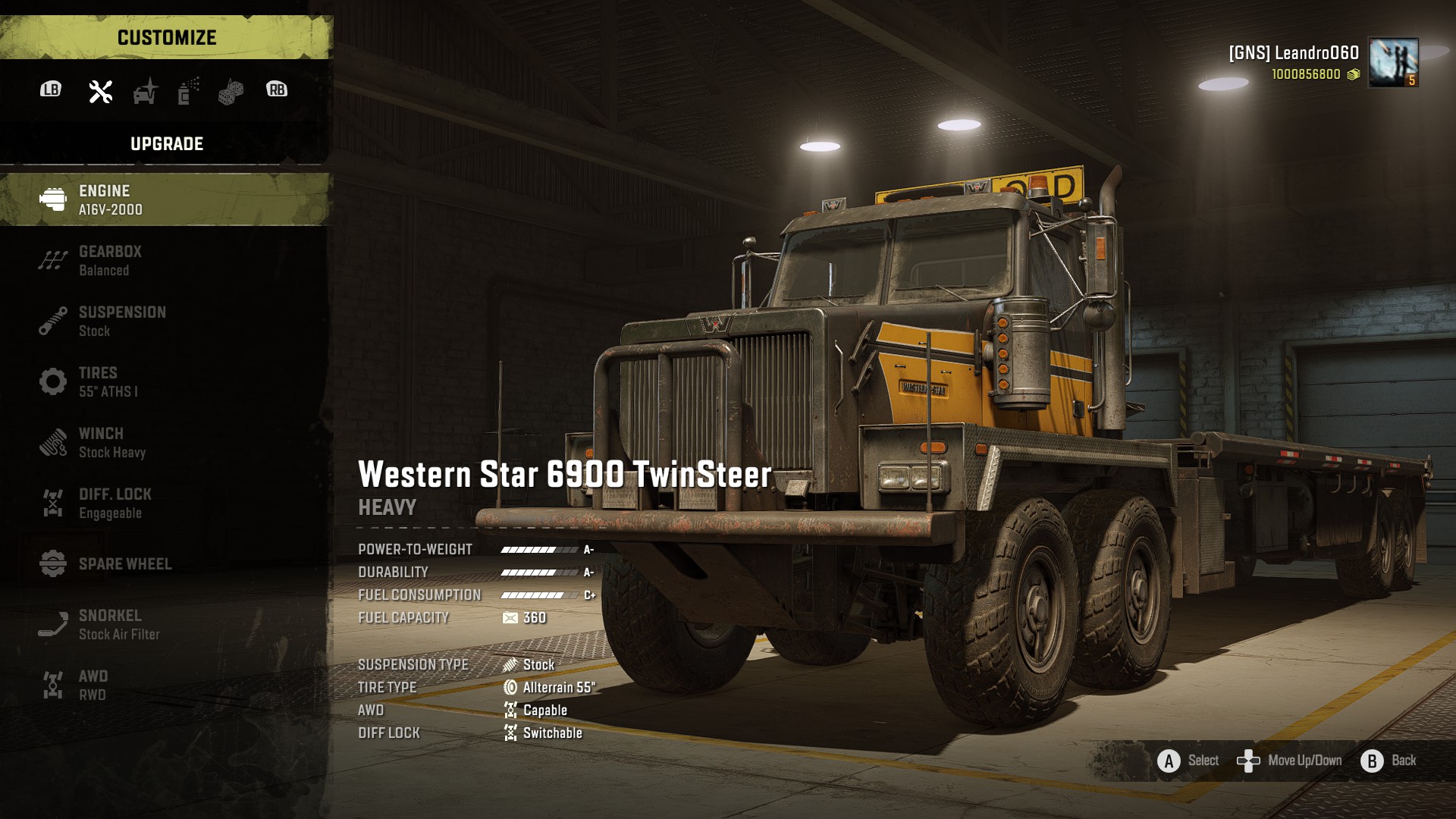 Name: Western Star 6900 TwinSteer
Price: 118200 Cr
Region: USA
Off Road: 9/10
Hauling: 6/10 since it can't use any type of trailer
Comment: Probably one of the most popular trucks in the Snowrunner community, and for a good reason. Extremely powerful engine, 4 slots of cargo without needing any addon and huge tires. Unfortunately tips A LOT, and getting it back on its wheels is quite painful. Also has a gargantuan thirst for fuel and the extremely useful AWD upgrade is locked behind a DLC.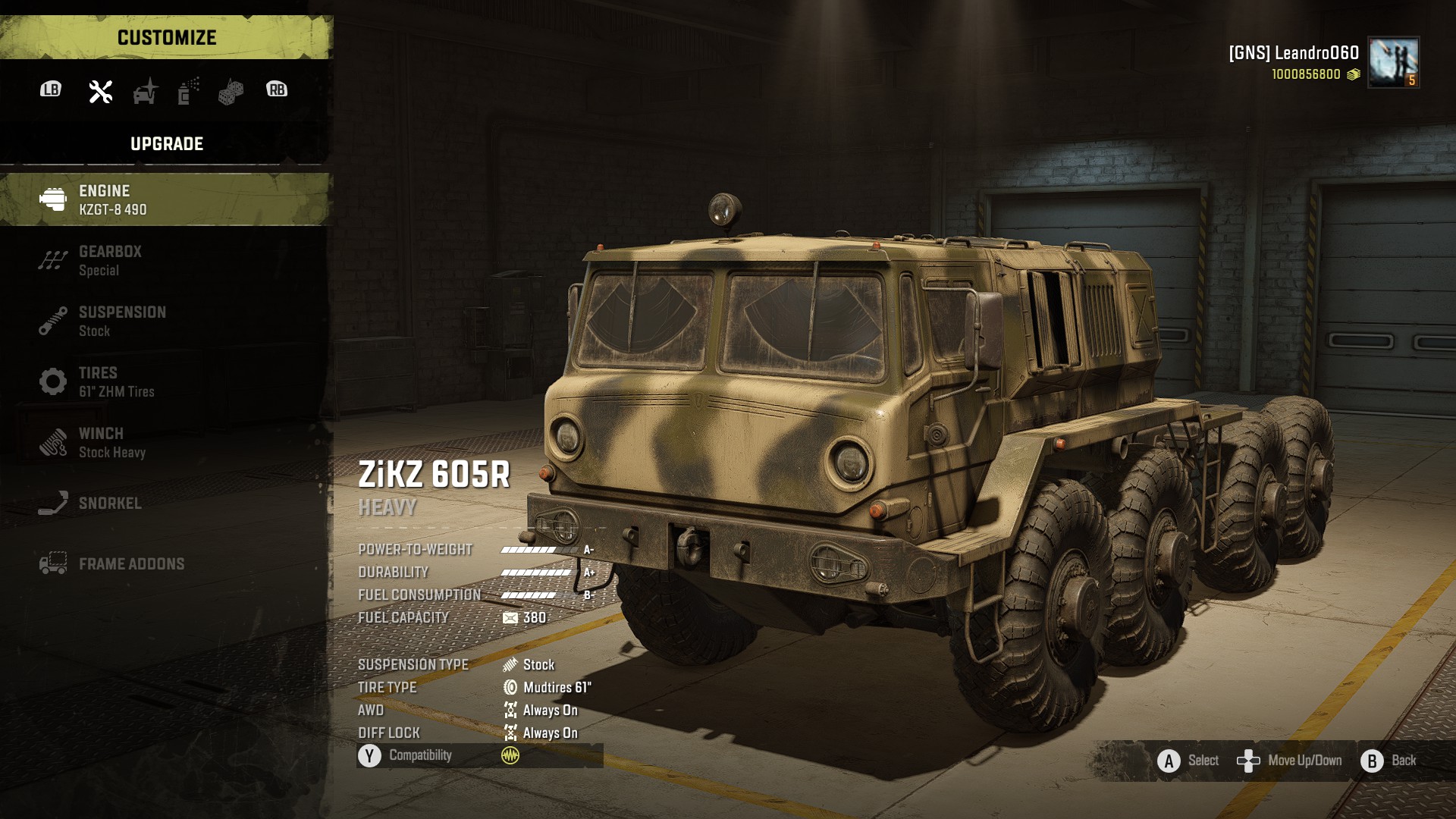 Name:ZiKZ 605R
Price: 191600 Cr
Region: Russia
Off Road: 10/10
Hauling: 10/10
Comment: Possibly the best truck in the game (at least at the time of writing). Imagine the TATRA T813. Got it? Alright, now mix it together with one of the KOLOBs. You get this beauty. If you send it, it'll SLAP in any condition. It isn't fast by any means, uses a lot of fuel and it's very expensive. Also, you can't change tires, but as the ingame description says "it can haul virtually anything so long as it's not nailed to the ground". And trust me, it feels like an understatement.