Congratulations you have made it to Alpha mode! Kyu has collected all of the panties and now the inventory looks kinda bare. Don't worry we'll fill it back up a little as we go. In fact because things were getting so crowed at the end you may have discarded date gifts that you never dreamed you would need. That's what I did. There are literally hundreds of date gift combinations that will facilitate the success of all regular game dates no matter what difficulty setting you are playing. Not true in Alpha mode.
If you have not maxed all of your traits by now remember to talk to the girls after each date to get Hunie. Upgrade your traits as soon as you can.
We begin Alpha mode and the affection goal of the first date is 6,000. That is 500 less than the goal of regular games (in hard difficulty) after they have reached their maximum of 6,500. So the beginning of Alpha isn't that much different than the end of regular play. One difference you may like is that the difficulty of the bedroom puzzles does not increase. In fact my experience has been that the bedroom puzzles in Alpha are equal to the bedroom puzzles on medium in regular. I have never been over 50 in a bedroom puzzle in hard difficulty. I have completed bedroom puzzles in Alpha.
This all means that at first there is basically no difference, except for the fact that the goal keeps increasing. If it gets out of your comfort zone you can't go to the Huniebee and change difficulty. People ask "How do I go back? Alpha is too hard!". Sorry, erase and start over or open a blank data save. Don't worry this guide will take you just as far as you want to go in Alpha with no regrets.
So you're feeling pretty good cruising along going on dates. Heck you can pick up both Alpha achievements without even changing your date gift strategy (if you have a good one). Then things start to happen around Alpha date 11-17 (your results may vary). You have a couple of close calls and then you get frustrated because, nobody wants to be a failure. That's when you really start to need this guide.
The only way to get past a certain point in Alpha is to use "percentage" date gifts. There are two heavy hitters: the silver necklace and the pearl necklace. They score you so many points I get excited just to type their names. That isn't the whole picture though, because percentage date gifts are only as good as the numbers you provide them to percent. In other words a gift that gives you 1% of your affection goal for each sentiment you have accumulated doesn't give much if your sentiment was only 20. If it were 100, now that's more like it. Wait, no way can you get your sentiment that high. Yep, actually as high as 200 but that would be a bit over kill. I like to reach 78. I'll explain why later. So where is all this sentiment coming from? One of two of the most beautiful date gifts ever made, the suede ankle booties. The other beauty is the leopard print pumps. This is your horse and carriage deal. They work together to carry the load. One gets you the sentiment the other provides the moves in which to do it. There is a catch though, 4+ matches. To be Alpha (past game #30) is to be a 4+ match lover. Guilty. A 4+ match is a match of like type tokens from 4 to 7. A move can also simultaneously match from 3 to 13 other tokens. (Thanks UnLuckyCat). Every time you do that you get 3 more sentiment and another move. Every time you don't do that you are one move closer to possibly falling short on sentiment for the date gifts and affection goal.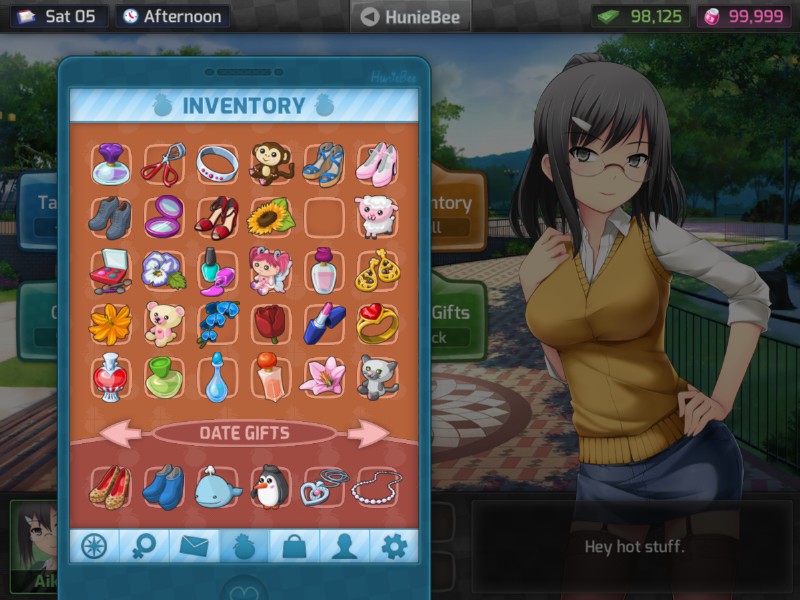 This screenshot shows the line up of date gifts. The ones I have already mentioned plus the penguin and whale. This is what I call the "short pack". If you don't have all these gifts start buying gifts she loves (heart symbol) every chance you get until you have them all. I call it the short pack because it allows for success in less time, however it is a little more risky. More risky than the "long pack" which is a variation on date gifts, but can produce a game you will win, in 20 minutes instead of 13. That is for later.
First the short pack.
Before the game begins as all Alphas should know, eats and drinks to the max. Most people restrict Alpha dates to times that the girls drink. Early sentiment is very important. If you see on the Huniebee that there is only 500 in food that this girl will like, find another girl. If you want to date a girl but there is only 1000 alcohol and she will take 1600, find another girl tomorrow.
Actually you can take chances and there is no penalty for failure. Except of course for that soul wrenching scolding you get when you fail a date.
Now the date begins; we have a puzzle to work. Our first move is always giving her the suede ankle booties. Now we look for 4+ matches as well as sentiment, joy, and passion matches. Getting passion up right away is not critical anymore. It's more like you are getting them out of the way or setting up 4+'s. It is a long game so by the end you will max passion at 16 and have more to spare.
Sentiment is the most critical at first. You need 8 for the leopard print pumps, that's what is next.
Now your matchin' 'em up. 4+, sentiment and joy. Pretty soon you may have too many broken hearts for comfort. Late Alpha mode games are a little weird, broken heart matches are no big deal. Still, those broken hearts can be turned into sentiment with the whale. Then later in the game when they build back up they can be turned into moves with the penguin. By the time you finally get down to 5 moves or less, it's show time.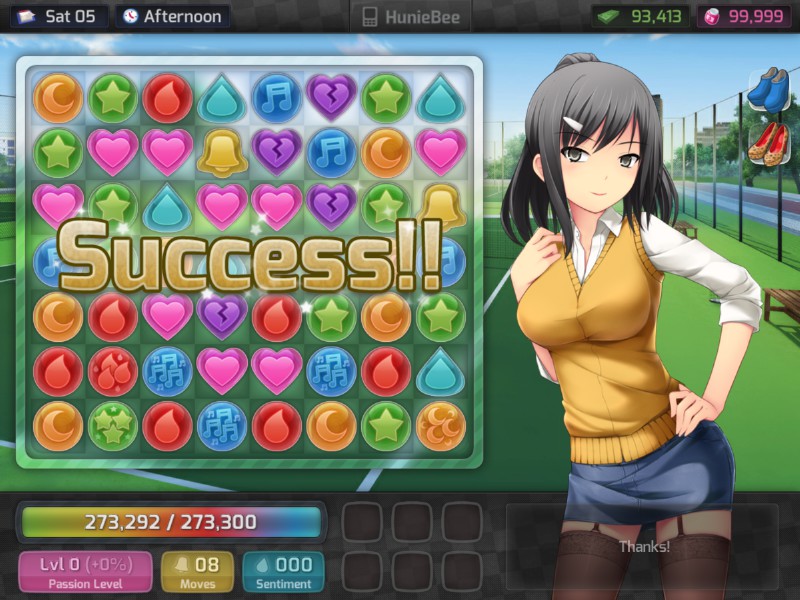 If you have been lucky/skillful your passion is maxed at 16 and your sentiment is around 78. Whenever this happens in the game you can win right then. First give her the silver necklace. Then give her the pearl necklace (you cannot reverse order). The first necklace gets you 32% of the goal and the pearls gets you 70% (78 minus 8 delivery fee), plus what score you already had. You won ! Yeah.
This last screen shot shows that I finished the game with 8 moves to spare. It is Alpha game #100, the affection goal is 273,300. It was not my first or last Alpha game #100. That is because Alpha games quit increasing after #100. I admit that much of the knowledge that is stated in this guide I learned from other people; reading the HuniePop forums and watching you-tube. One thing I should clear up: Risky, I have a ~60% success rate with the short pack. That means I actually played over 160 puzzles to get to Alpha date #100.
Thanks for using this guide. May the luck be with you.