At the start of this guide, I mentioned that Idol Manager's early game is all about controlling 2 resources: money, and idol stamina.
Let's break that down further.
In the early game (before you have access to "passive income" sources like the theater and cafe), Idol Manager is a game where you are constantly passively LOSING money (due to salary and rent costs), while passively GAINING idol stamina.
This means that the early game is all about finding ways to convert idol stamina into money.
In a way, idol stamina recovery is your main source of resource "income," which is why the break room is so important: it's a huge boost to your "passive income!" This is also why it is actually a GOOD idea to hire more idols, because idols are responsible for 100% of this source of "income"
The math on hiring more idols
Consider this: if you increase your agency size from 3 idols to 5 idols, you are increasing the amount of idol stamina your group passively gains every day by 66%. That is a huge increase to your "income"!
"But wait," you might ask, "Won't hiring more idols also increase the amount of money I'm losing, by increasing the salary costs of my group?" Well, yes, but by a TINY amount, relative to the group's total costs: go look at your group's expenses right now (hover your cursor over your yen balance at the bottom of the screen), and compare "idol salaries" expense to "total" expense: if you're in the early game, I'm guessing your idols salaries only account for around 10% of your group's total expenses.
Let's turn to an early-game example: as an experiment, I just started a new save file, and have a group that consists of the basic bare-bones essential staff: 1 sales manager, 1 dance instructor, 1 voice coach, and only the basic buildings + 1 break room. My group also has 3 idols. Here's what my costs look like: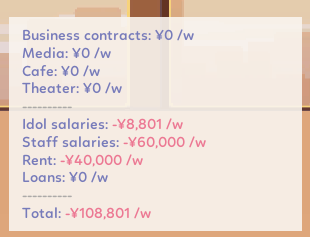 My total cost is 108,000 yen per week, but idol salaries only account for 8,800 yen of that. In other words, idol salaries are only 8% of my total expenses!
Suppose I hire a 4th idol who gets paid the same as my other idols: that would increase my weekly costs from 108,000 yen per week to 110,900. That's only a 2.6% increase in my group's total expenses for hiring an additional idol! That's barely even noticeable!
Thus, by hiring a 4th idol, I increase my expenses by 2.6%, but increase the amount of idol STAMINA I gain each day by a whopping 33%! That is DEFINITELY WORTH IT! (And like the 4th idol you hire, the 5th idol you hire also corresponds to a big jump in your group's available stamina for a pretty minimal impact to your finances.)
Thus, while the game's tutorial only requires you to hire 3 idols, I recommend hiring 5 idols as soon as you are able.
Whether to hire more than 5 idols
Why only 5 idols? Because remember, the break room only restores stamina to 5 idols. If you hire a 6th idol, then either you'll have an idol in your group who isn't getting the free stamina boost from the break room, or you'll have to pay for a second break room. In other words, while the 4th and 5th idols are "low cost, high payoff," the 6th idol is where you hit the point of diminishing returns in the early game.
Also note that all of the above math is based on early game numbers. As idols become more famous, they will command a higher salary. (Nonetheless, even into the late game, idol salaries are a comparatively tiny part of your group's total costs.)
So, does that mean we should immediately hire 10 idols? After all, going from 5 to 10 idols (and building a second break room) effectively doubles the amount of stamina we are gaining, while only increasing our company's expenses by 10%.
Well, as it turns out, this is quite a valid strategy that I have used several times in the past! Hiring a lot of idols very early is much more viable than people might think (probably because they over-estimate how much idol salaries contribute to expenses).
That being said, there are several things that you do have to consider:
First is that you don't want your group to grow so big that your sales managers can't keep up. Remember, idol stamina is great because we can convert it into money, but you're often bottlenecked by your sales manager. (And if your bright idea is to switch from photoshoots to ads to remove that bottleneck, remember that ads are half as effective as photoshoots at generating money from idol stamina: in other words, if you double the size of your group, but then do activities that are half as efficient to compensate for it, you're not actually generating more revenue.)

Second, the "costs" of adding members to your group go beyond idol salary: the bigger your group is, the harder it is to keep track of everyone's social life. That means it becomes harder to track down bullies, harder to figure out if people are engaging in scandalous behavior (illicit dating), and so on. So in a sense, your ability to socialize with the group is a big bottleneck, too.
Growing from 3 members to 5 members doesn't really add very much complexity to your group's social web, but growing from 5 to 10, it can grow quite unwieldy to keep track of who is bullying who, or who might be at risk of getting into a dating-related scandal. Thus, I find it's best to expand slowly, after you've built up a moderate to high friendship level with your existing group members, which will let you stay on top of group gossip so that you can get rid of these kinds of "social problems" as they arise.
Auditions
Of course, there's another cost to hiring idols besides the things listed above: you have to hold an audition. This requires both money, and time for the manager to produce the audition. That being said, this is a one-time cost, so it's not a very big deal in the grand scheme of things. But it is worth talking about which auditions to hold.
Obviously, the local auditions are the cheapest: regional auditions are x10 as expensive, and nationwide auditions are x100 times as expensive! That means that nationwide auditions will probably be out of your price range as a new player.
So, does that mean you should ALWAYS opt for the cheapest audition option? In the early game, generally yeah. (If this guide is all about "not going bankrupt," then you should definitely go for the cheapest audition.)
That being said, it is worth being informed about why more expensive auditions may be worth it:
One reaction to seeing the cost of bigger auditions is that, for the cost of a nationwide audition, you could just hold 100 local auditions, which would surely give you some number of rare idols just due to sheer numbers. While that is true, it's not practical for several reasons:
The most obvious thing is that audition takes up your producer's time, which is a valuable resource: you literally do not have time to hold 100 local auditions (and if you did, you would be neglecting important activities like socializing with idols, writing song lyrics, or literally anything else)
The second, and less obvious reason, is this: higher-tier auditions have a chance of giving you multiple rare idols in the same audition, and hiring two rare idols from two separate auditions is not the same thing as hiring two rare idols from a single audition. Idol cliques and friendships are based on WHEN they join the group -- meaning that two idols who join as part of the same audition will get along better than two idols who joined in separate auditions. This matters for things like the team chemistry bonus, and obviously lower incidents of bullying. (Having fewer unique cliques also makes it easier for you to keep track of what is going on in the group when listening to idol gossip.)
Thus, it is generally best to hire idols
in batches
if you can, rather than just holding an audition and picking out the one with the highest stats.