---
Idol Manager is a fine game that successfully manages to steal a lot of your time and is definitely not easy when starting out. Your first venture will fail when playing on normal, probably your second one too.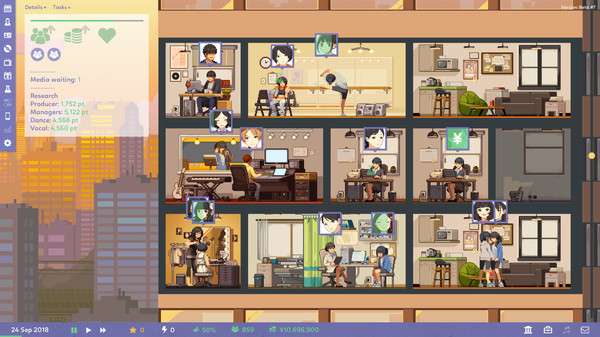 It's a tycoon/business game and as such it faces with same issues every game in this genre has - you have to make it gamey in order to overcome the issues. For example here, the optimal starting strategy is to set all idol salaries to 1 Yen per week and then create a bunch of singles without hiring a single staff member, build a recovery room and spam activities to gain fans, and only then you start releasing songs. Because the game lacks starting scenarios or customisable rules, I fear this will become the best way to start each playthrough, which will lead to repetitive games. It's a typical scenario of struggling with first playthroughs until you discover a snowball strategy, after which the game stops being a challenge and becomes a cookie clicker.
Moving on, the game desperately needs some UI changes. It is simultaneously bloated and lacking crucial info. When hiring idols, it's impossible to tell which stats influence which category of audience. The only way to figure this out, is to go create a single, assign the idols into a formation and then hover over stats - which means on first playthrough this can screw you over as you wanted to create an idol group for casual fans, but your girls have stats that appeal largely to hardcore audience. It beggars belief as to why aren't stats explained when hiring idols. A simple fix would be to categories the two stats into Casual and Hardcore. Essentially they kinda are, as the left stats are for Hardcore audience and right stats are for Casual, but there's no way of knowing it without figuring it out on your own when creating a single and comparing the stats.
Another issue is that fan satisfaction after releasing a single is poorly explained. For example, my single had a hardcore appeal over 200% as my audience is basically 99% hardcore, yet the final satisfaction was only 3%. There needs to be a tutorial section about this and more clear info with less raw numbers and more categorisation.
Would also appreciate a more detailed, or better composed breakdown of your audience. Each idol has her own info on what type of fans she attracts with nice pie charts and all, but there's nothing like that for your entire fanbase. For entire fanbase, you have four categories for both genders and both audience types with 3 age groups, but there's no way of telling exactly what's the percentage of your male audience and your female audience. As example of my current playthrough, I have...
Male Casual Teen [216], Male Casual Young Adult [175], Male Casual Adult [172], Male Hardcore Teen [11.943], Male Hardcore Young Adult [11.764], Male Hardcore Adult [15.745].
Then I have Female Casual Teen [212], Female Casual Young Adult [179], Female Casual Adult [182], Female Hardcore Teen [12.212], Female Hardcore Young Adult [13.831], Female Hardcore Adult [15.322].
It's all fine and dandy but it's seriously missing a total percentage of each gender and Hardcore/Casual. IMHO, there should be another info panel for these two, so we can see something like Male: 34% / Female: 46% and Hardcore: 75% / Casual: 25% (numbers which I just made up and do not correspond to the info I typed earlier) It would help a lot in planning for what audience you're aiming for.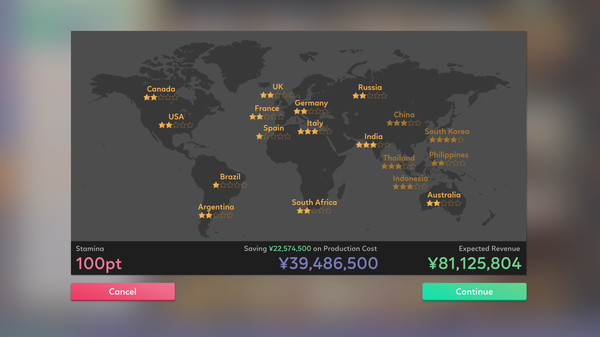 Aside from these issues, the game has a lot of potential. Graphics are a mix of pretty solid 2D artwork and charming pixel art. Voice acting is limited, but adequate. Nothing exceptional, but it's no amateur work. It's fun to manage the idols and devs clearly have passion for the subject and tycoon games. The events that happen are fun and interesting, and the depth of customisation keeps things rather fresh, especially since idols are randomly generated. No complaints there.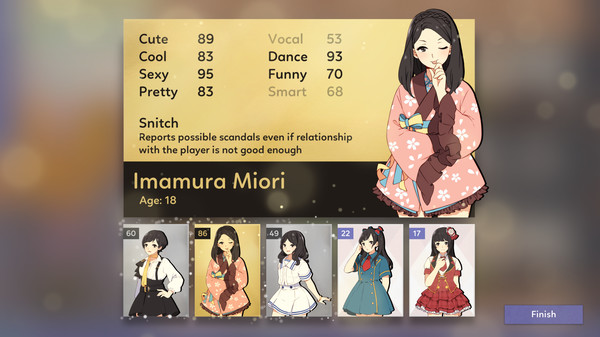 If UI was simplified/optimised and if there were scenarios or adjustable rules, the game would become an incredibly solid game. Perhaps there will be mods that can fix or add content. In its current state, I'd say the game is well worth your purchase and I will continue playing it, however I sincerely wish for some changes to be made. I want to see this game succeed.
---