---

Currently known solutions
Solution #1: Opt out of Steam Beta, select Steam Input and apply a controller preset.
Follow from Step 1 to Step 5.
I've personally tested this method and it was the only one that worked for me.

Solution #2: Select Steam Input, apply a community controller preset while having "Show other controll types" enabled.
Follow Step 3, beginning of Step 4, Alternative Solution #2, Step 5.
I can confirm that the game does show community control schemes which can be converted to your gamepad's scheme.

Solution #3: Move the game's install to the same partition as Steam.
Follow Alternative Solution #1.
I did not confirm this one.
---


Step 1. Opt-out of Steam Beta if you're using it
---


Step 2. Re-add SteamLibrary folder(s) if you're using more than one
---


Step 3. Change controller override to Steam Input
---


Step 4. Launch the game and apply an official configuration

Launch game, go to options menu, select

Steam Controller Settings

.
If you've never played the game, press New Game and you'll get options screen, where you can select Steam Controller Settings.








Then
Browse Configs
and then pick
Official Configuration for Tales of Arise
for your appropriate gamepad and click apply.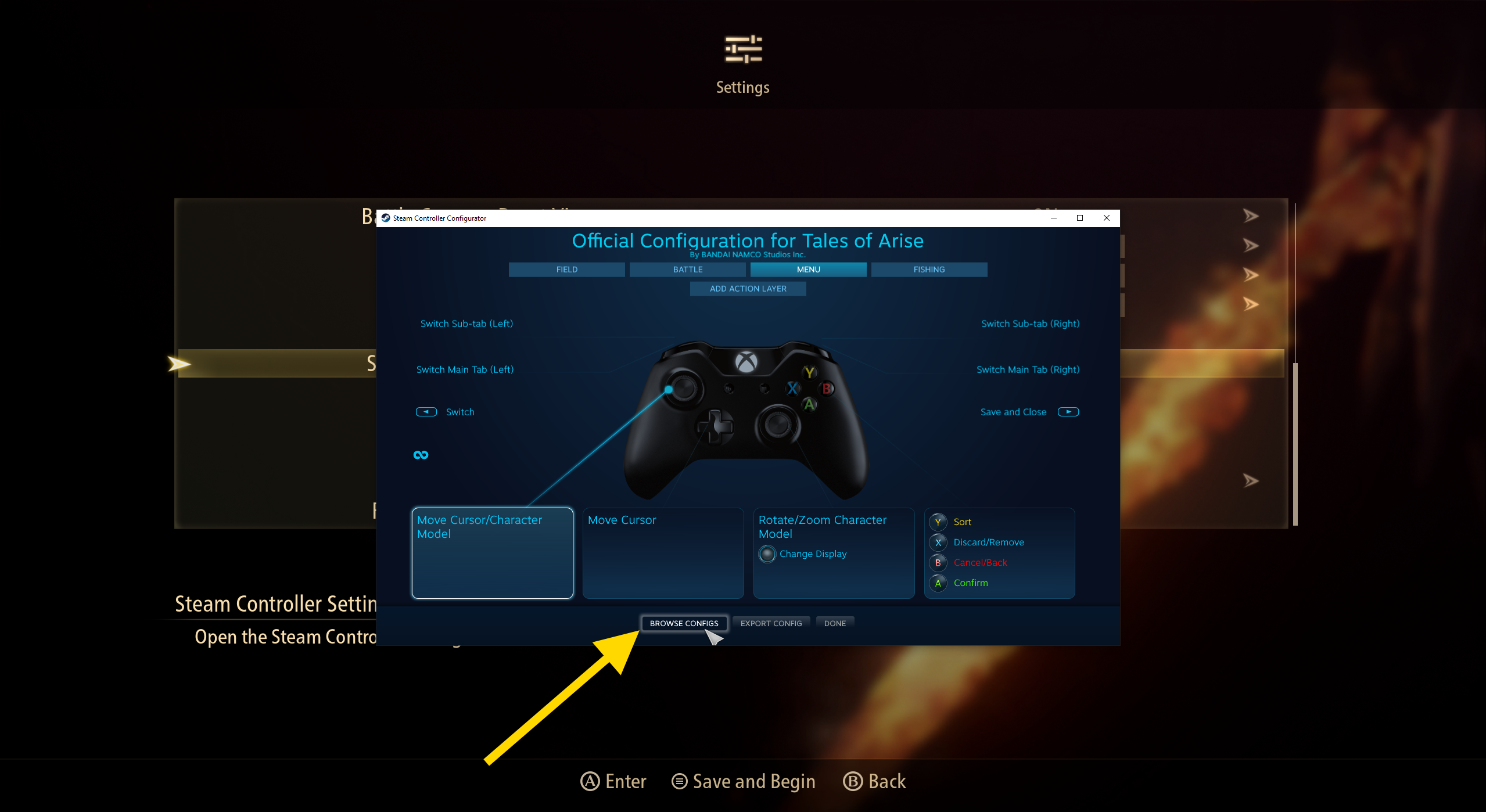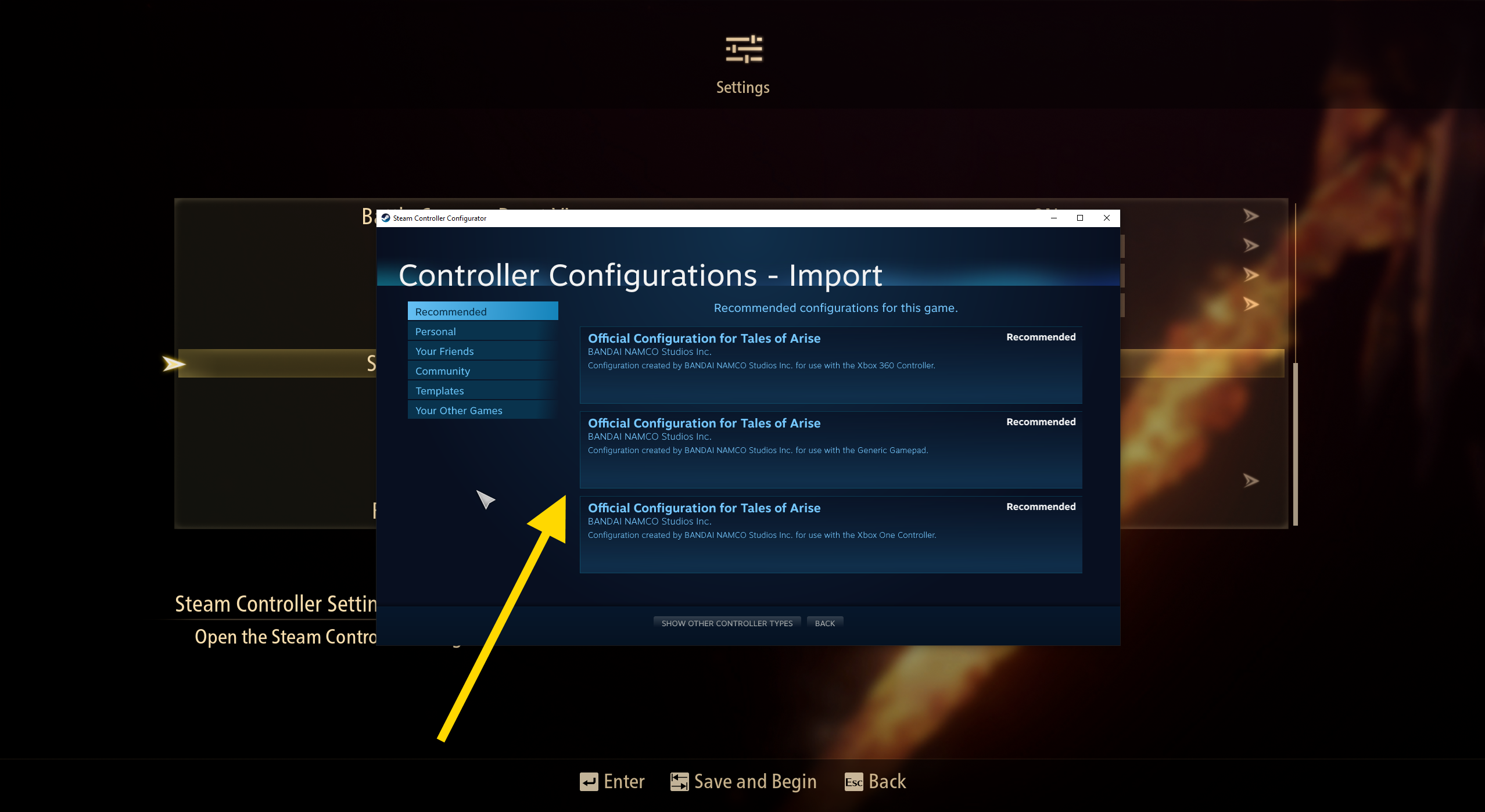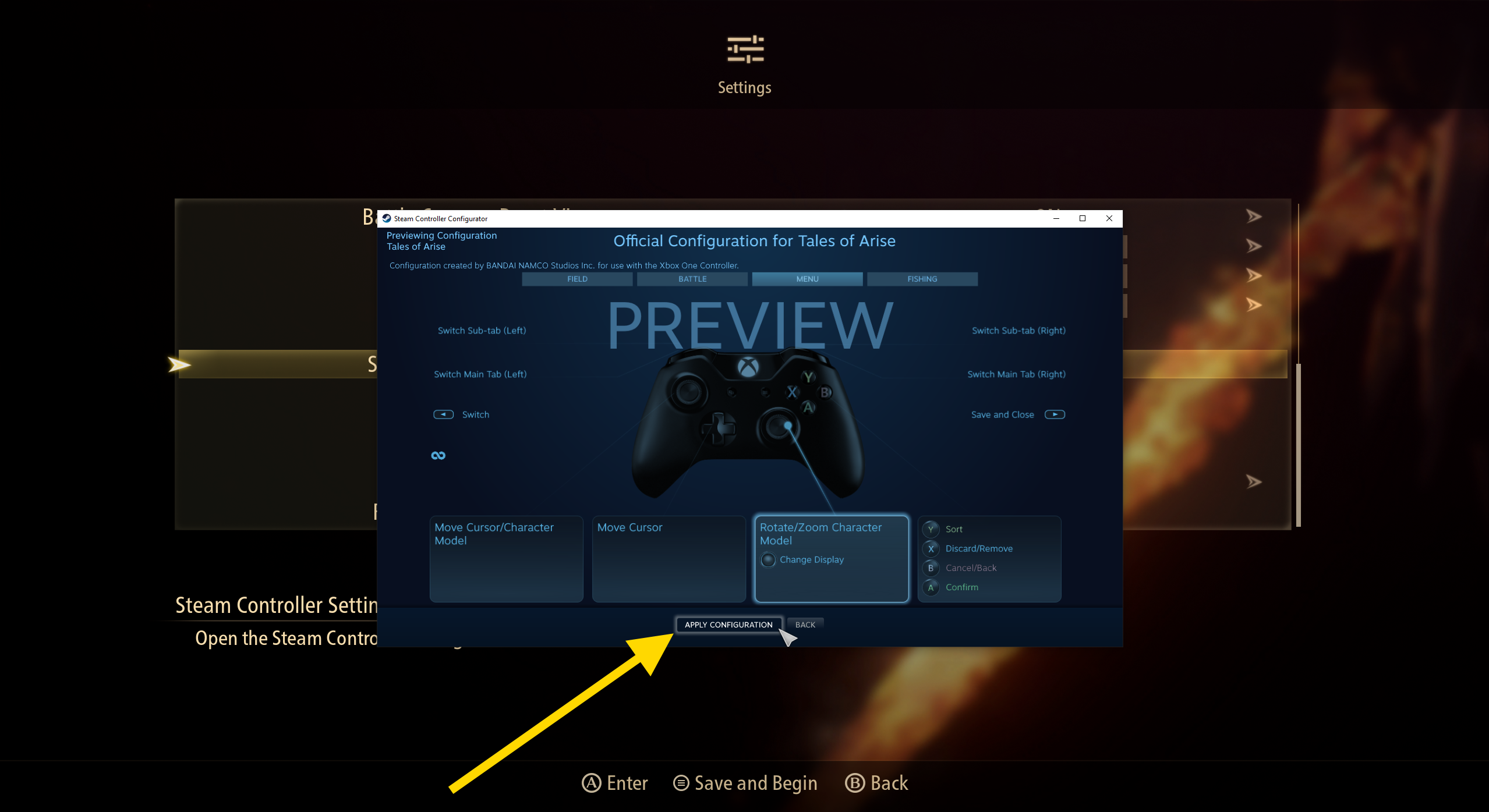 ---


Step 5. Restart the game
Your gamepad should be already connected when the game is launched.

Make sure the game is focused.
You will know the gamepad is working if you can skip intro logos with button presses.
---


(Optional) Step 6. Opt-in back into Steam Beta

If you want to continue to use Steam Beta then you can undo Step 1 and revert back to Steam Beta. You do not have to re-add Steam Library folders when on Beta.

Once your gamepad is working it will work even on Beta, however, when you're on Beta you cannot access Official configurations (the list shouldn't be empty):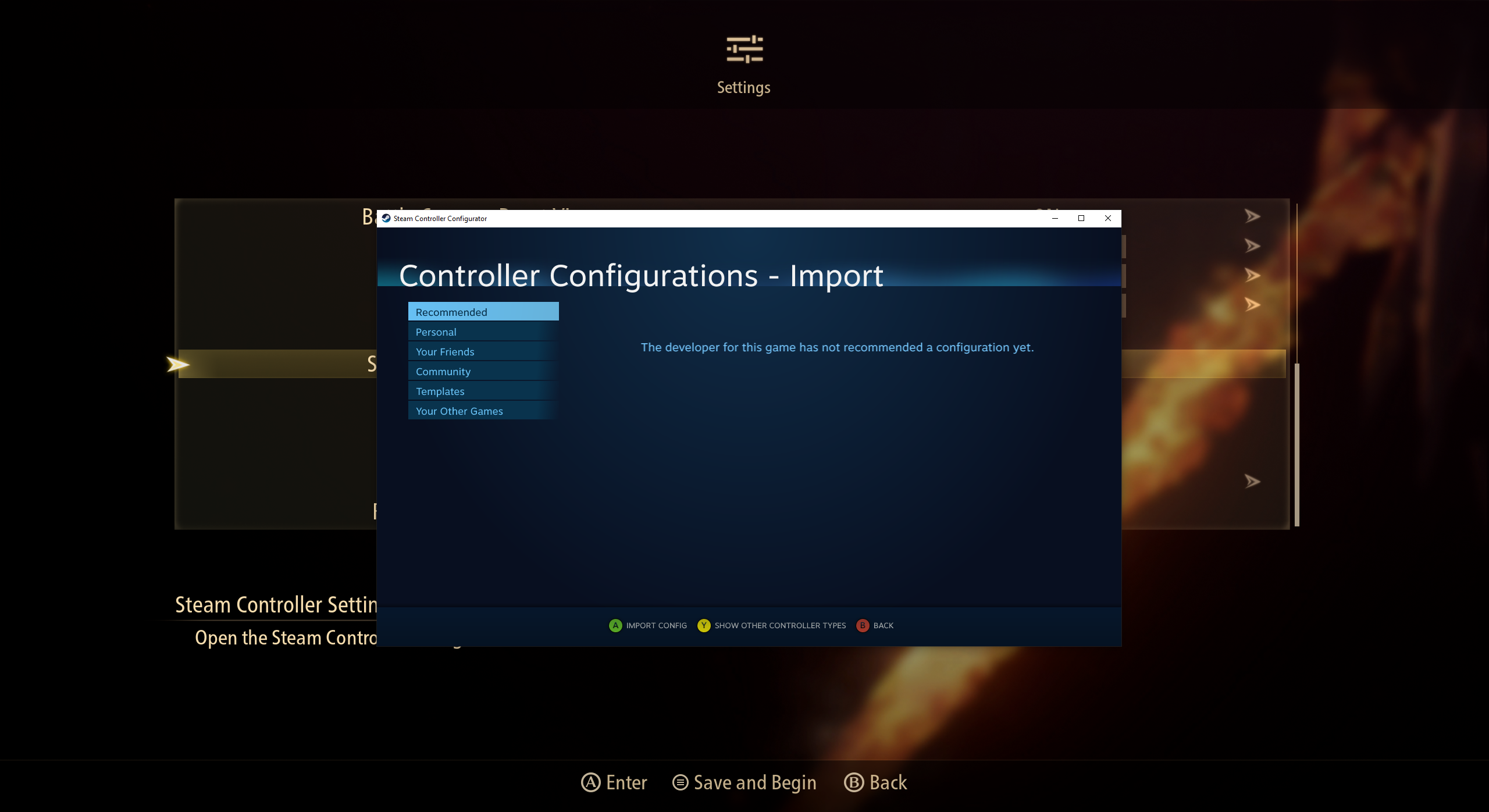 ---


Alternative Solution #1

As pointed out in

https://steamcommunity.com/app/740130/discussions/0/3042733612658968514/?ctp=9#c3042733612659157004

,

another solution would be moving the game to the same partition where Steam is installed.

Go to game's Properties > Local Files > Move install folder... > Select same partition as Steam > Move Folder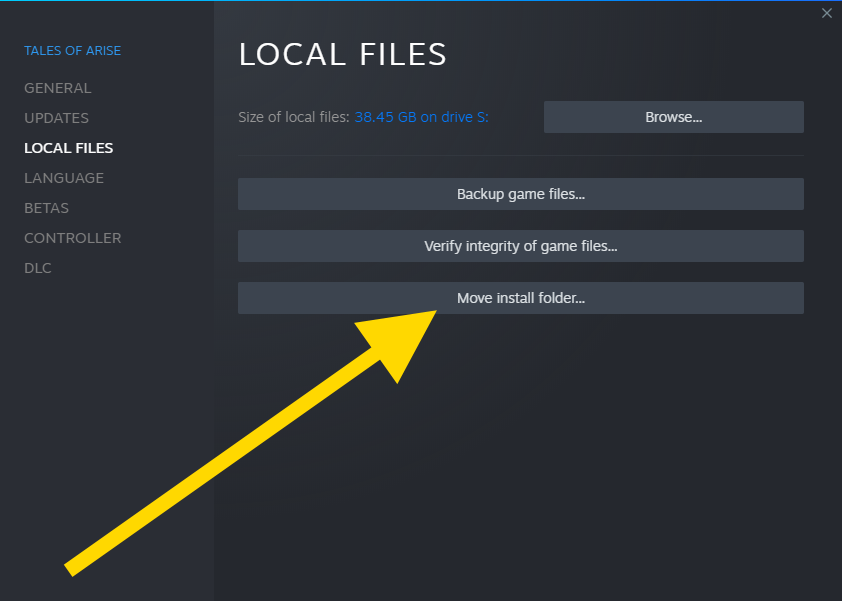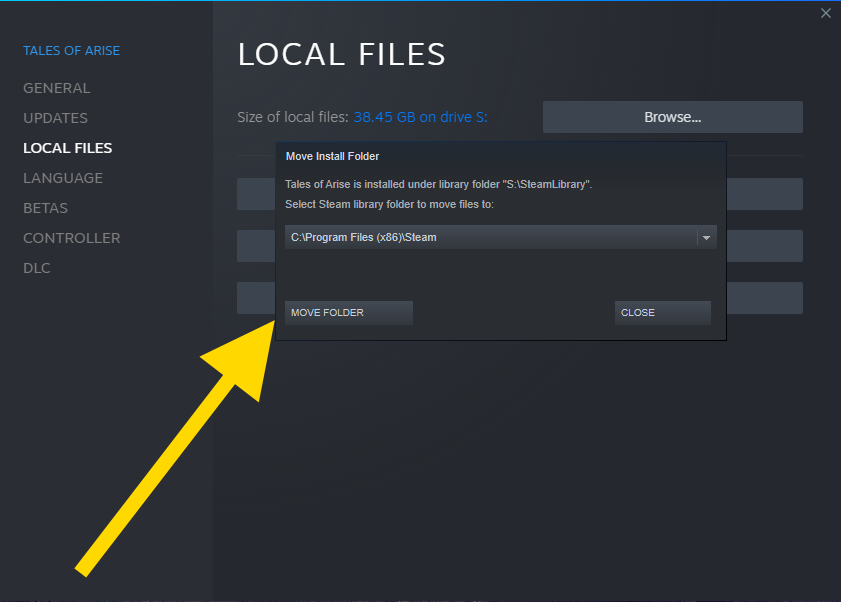 ---