---
General Performance
First of all the game looks absolutely gorgeous , the character models , environments everything looks great. But unfortunately there is some texture / objects pop in here and there. There also wasn't any option for the draw distance in the graphics settings which might have resolved the issue with object pop in. There is also some very minor stuttering sometimes especially when you open and close the map for me , but it's not that big of a deal.
But other than , that the game runs silky smooth on 1080p with most settings maxed out without any fps drops ( so far ) for me , even on my average gaming laptop with a 1060 6gb , 16 gigs of Ram and an i7 hexa core processor.
I personally didn't have any problems with the controller. I am using a wired Xbox One controller. I just plugged it in and it works without any issues. The game also allows you to rebind your controller settings although you can't do it in-game and it opens steam controller settings for that.
Navigating the menu with the controller is pretty smooth but with a Keyboard and Mouse it feels a bit clunky / unresponsive and sometimes gets stuck for a second or two when you hover your cursor on an option.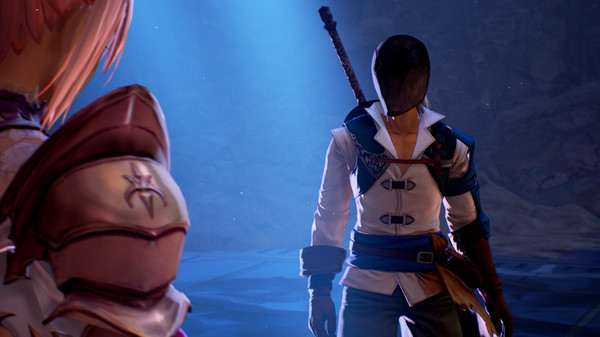 Free Roam
Free roam honestly feels much better than previous Tales games. You can sprint around , swim in water , climb vines and all that stuff. And whats this ? you can finally Jump during free roam. I don't know about you , but I personally love jumping around when exploring in RPGs.
But the way jump works is very inconsistent. The thing is when you are on top of an elevation , then you can jump down no problem. There is no prompt or anything to press , you either fall down from the edge or you jump down. It's smooth and simple. But when you want to jump over a small elevation like a platform or over a rock or a fence , sometimes you are able to do that and sometimes you can't because of invisible walls. It feels quite awkward when your character isn't able to jump over a fence but is able to jump over another that is just a few meters away.
Other than that free roam is pretty much the same. You explore around , find and collect items , fight random enemy encounters , optional mini bosses , you rest in inns or camp sites to recover your HP , CP , view some skits and all that stuff.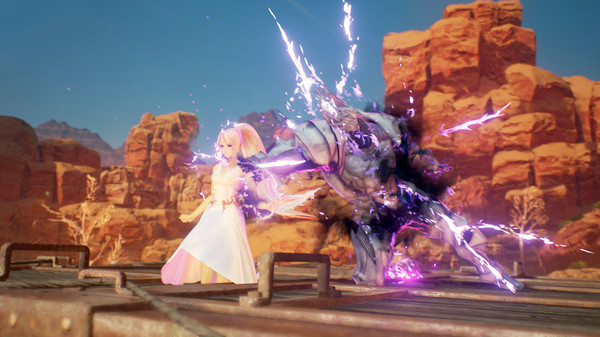 Combat
So far I am really liking the new combat system. It is a bit different compared to Zestiria / Berseria and is more similar to other Action RPGs / Hack and Slash games. You have your normal attacks and a bunch of arts and you can combine these to create different combos. I mean technically you could do this in previous tales games as well , but here it feels more similar to western action games.
The game also emphasises using different combos and seems to penalize you a little bit if you stick to the same attack. And I must say that it definitely feels very satisfying to do these combos. Hell you can even jump and use a bunch of aerial attacks and combos and juggle enemies in the air which is really awesome. To combo your enemies , you have to attack them till they "Break" which means they get staggered from your attacks and then you can combo them to death.
As much as I am loving the combat , one issue I have is that there is no animation cancelling from what I have seen. Which means if you are performing an attack , you are committed to it till that attack animation is complete and you cannot cancel out of it with your dodge. This game plays more like a hack and slash game that encourages you to be aggressive and use different combos and the lack of animation cancelling makes this process feel quite clunky sometimes. Don't get me wrong I don't mind not being able to cancel your animations when it is used in slow methodical action games like say Mortal Shell or The Surge , but in a fast paced action game where you have to you use different combos on enemies , I don't think it works that well and kinda slows the pace of the combat. Atleast the enemy attack telegraphs are quite generous and give you a decent amount of time to avoid their attacks so it's not that bad I guess.
Controls
Combat plays fine with both Keyboard and Mouse and a Controller. For K+M the controls are actually quite good. Just like any other action adventure game you move around with WSAD , Shift ( or Right Mouse Button ) for Run / Dodge , Left Mouse Button for your standard attacks ( but for some reason the tutorial tells you to press Q instead of LMB ) , The Arts are mapped to E , R and F which are fine for me and finally Alt for Lock On/Changing Targets. Honestly I have no complaints so far with these keybindings. The Default sensitivity is a bit high for mouse so I recommend changing that first in the settings.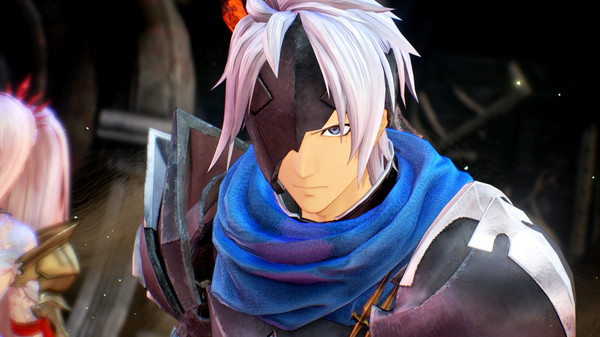 Voice Acting , Story , Skits etc.
Personally I am not quite sure about the English voice acting at the moment. I mean it is fine , but compared to Berseria which in my opinion had fantastic English VA and even Zestiria it feels a bit lacking. Maybe I need to play more and eventually it will grow on me , but man it feels a bit off. I think I might try the japanese voice acting to see if it fares any better. Fortunately the music as always is really good with some catchy tunes. The Opening title song is fine but still is not as awesome as the ones in Symphonia or Zestiria.
I like the premise of the story and I am very interested in the characters and how the story is gonna unfold. Like usual the story is presented to you by a combination of in-game engine cutscenes , anime cutscenes and Visual Novel style interactions or skits between the characters.
And that brings us to Skits or the Visual Novel type of interactions in this game. Previous games like any other VNs showed you anime style character portraits talking to each other during these skits And I absolutely loved how skits were presented in both Zestiria and Berseria. But in this game , instead of animated portraits you have some sort of comic book style panels with characters that are presented with in-game engine models talking to each other. I am honestly 50/50 on this one. It kinda looks fine , but I personally prefer how they handled it in previous games because the character expressions looked a lot better and lively and the interactions had a lot of charm when they were shown as anime style portraits.
And one small gripe is that the notification that you have a skit available is still very easy to miss for me because they show it as a very small prompt at bottom right corner of the screen. So yeah when you are busy exploring and stuff , it is quite easy to miss. The good thing is though that now you can watch skits and other cutscenes that you have already seen whenever you rest at camps. In the previous games you could only do this after you find normin island if I remember correctly.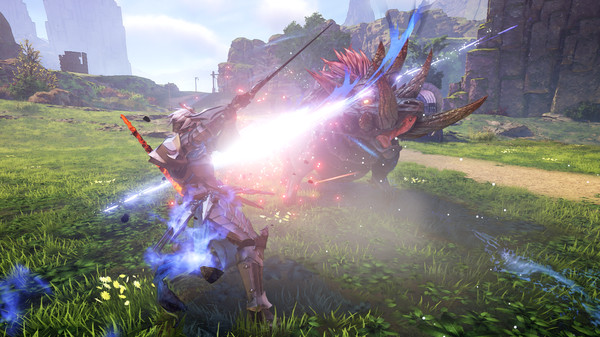 ---