Rift Wizard has a wide range of passive skills you can buy, including many overlapping and complementary skills. It's easy to look at the huge skill list and picture stacking up a bunch of skills that all apply to a single spell to pump it up to dizzying heights--but conversely, you can take a single skill and apply it to a wide range of spells. And no skill is as broadly applicable as Arch Sorcerer.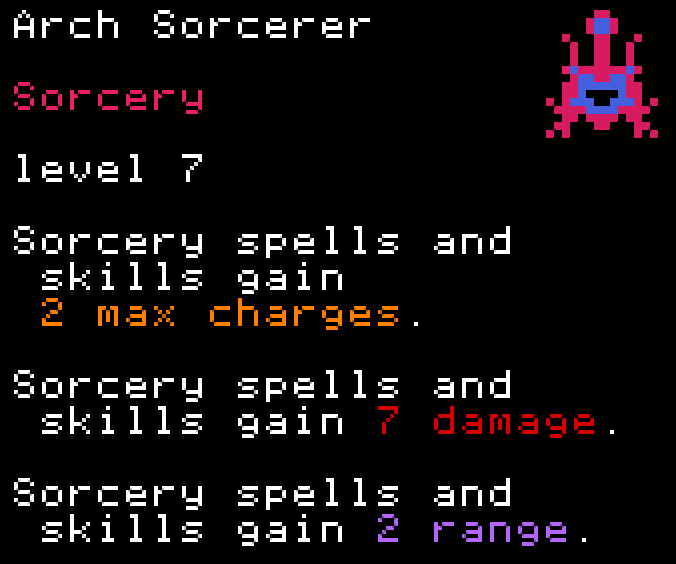 On its own it may not sound like much for any given spell, but when you've got 10 different sorcery spells at your fingertips that's 20 extra charges from every mana potion. Big spells with few charges get a proportionately bigger impact from the extra charges, while weaker spells benefit from the flat damage boost that can increase their damage output by double or more.
So Arch Sorcerer is the lynchpin of your build, and you really want to pick it up somewhere around rift 3-6. Ideally you want to pick it up sooner rather than later, but sometimes a juicy magic circle or shrine may tempt you to deviate for a couple floors. Unless there's something particularly exciting, though, you should strongly consider aiming for Ruby Hearts early on while you save up for Arch Sorcerer.
Your gameplan typically looks something like this:
Rift 1: Buy a cantrip as normal to clear the level, then buy 1-3 more cantrips.
Rifts 2-4: Save up SP for Arch Sorcerer and immediately purchase it.
Maybe
spend 1-2 SP on additional spells before Arch Sorcerer, if you get a discount or good shrine.
Rifts ~5-7: Use Arch Sorcerer to steamroll a couple levels while looking for good discount circles to stock up on more cheap spells. If no relevant circles appear, just buy something big for now to tide you over for a few more circles.
Rifts ~8-11: Try to find another circle to plug a bunch of upgrades into a couple bread and butter spells, preferably ones that you've found shrines for. If you can't find any circles for cheap upgrades, then aim for big ticket upgrades or expensive skills instead.
Rifts ~12-17: If you have any gaping holes left in your build, try to plug them now even if it means coughing up full price without a circle. Round out your build with utility spells.
Rifts ~18-21: Grab any further skills and upgrades to pump up your key spells to power through the late game gauntlet.
Rifts ~22-24: If you don't have a suite of spells to handle Mordred yet, you need to buy them now. At a minimum look for a teleport, a shield stripping attack, and a massive single target damage spell. If you can squeeze in some CC and defensive/healing spells, all the better.
Beyond your starting spread of cantrips there really aren't any absolute must-have spells to build around. Quantity is its own form of quality: buying a lot of different spells (preferably at discount circles when possible) gives you a ton of ammo, and having different damage types and quantities and AOE options lets you stretch your spell charges even further by being able to hit enemies where they're weakest. When in doubt, buy more spells! Buying upgrades and skills usually just makes your existing spells better at doing what they already do... which means you may run into a dead end in situations where they don't. Buying another sorcery spell that does something completely different is usually more efficient than trying to force a single spell to handle situations it's not naturally good at.
Try to pad out your spell list with to cover as many different bases as you can:
Do you have a source of a wide range of damage types?
Holy damage is ideal as few enemies resist it and many are vulnerable, but by the time you reach lategame even holy damage will run into plenty of resistances, so diversification is key.
Do you have efficient AOE?
Spells like Fireball, Lightning Bolt, Fan of Flames, Toxin Burst, Icicle, and Heavenly Blast are good cheap cleanup spells that will save charges on your better spells.
Do you have chaining attacks?
Chain Lightning, Arc Lightning, Death Shock, Death Cleave, and Prince of Ruin are all ways to wipe out ever-multiplying chaff quickly.
Do you have big single target damage?
Touch of Death, Chaos Barrage (situationally), Annihilate / Mega Annihilate, and Shrapnel Blast (with upgrades) are all excellent boss killers.
Do you have ways to hit through walls?
Blazerip, Toxin Burst, Shrapnel Blast, Chill Wind, Wheel of Death, Heaven's Wrath, and Meteor Shower all let you snipe troublesome enemies and gates from a position of safety. With upgrades Thunderstrike, Volcanic Eruption, and Pillar of Fire all do the same.
Do you have ways to deal with wide open spaces?
Heavenly Blast, Arc Lightning, Chill Wind, Pain Mirror, Siphon Shields, Searing Orb, Searing Seal, and Searing Heat are all very useful here.
Do you have ways to get around?
Blink and Teleport are the gold standard here, but with the right setup Underworld Passage, Lightning Form, Aether Swap, and Soul Swap all do the same.
Do you have ways to deal with shields?
Siphon Shields, Magic Missile (with upgrades), Chaos Barrage, Shrapnel Blast, Cantrip Cascade, Toxin Burst, Searing Orb, and Nightmare Aura are all good at racking up lots of hits to take down shields quickly.