Now, hit Enlist to find a server to play on.
When the list refreshes you can see the server name, the number of players on the server, the max amount of players on the server, the map, the mode and the ping. You can also set a server as a favourite by clicking the star on the left. The 2 game modes currently in Hell Let Loose are Offensive and Warfare. Offensive is an attack v defence mode where the attacking team needs to keep moving up and taking objectives. They get limited time to capture each point, but doing so will increase the time they have. Warfare is more of a traditional push-pull conquest type mode. If you've played Battlefield, or Call of Duty Ground Warfare you will be familiar with this. But only 2 objectives are active at one time.
When you click on a server you get this extra information on the right. VIP slots are something set by the server owner, and let players who have VIP status jump straight into the game and skip any queues. You can also see how many people are in the queue, and how many people the queue can hold. I would recommend playing on a community server and not one of the "HLL Official" servers. This is because, on the official servers, there are no active admins who can remove toxic players, team killers and cheaters. But on community servers, there will be.
So now join a server, and once it's loaded you need to choose which team to play on. If one of them are greyed out, it's because there are too many players on that team. Once your team has been selected, check out the server rules on the right.
The next choice depends on what type of game you want to play.
Do you want some Infantry action?
How about to roll around in a Tank?
Or to be a bit sneakier and snipe away?
Whichever you decide, my recommendation would be to join an already existing squad which you do by clicking the white arrow next to the squad name. You can request to join locked squads by clicking the same icon. If there is a microphone icon next to the squad's name, then the squad leader has set this to a VOIP squad, so if you join it, make sure you use your microphone. The squads can also have a set designation. Offence, Defence, Logistics or Artillery. If the squad leader has chosen a designation then that's what the squad's function will be during the battle.
Once you have joined a squad, you now need to choose your role. All roles are limited to 1 in each squad apart from the Rifleman. If you are a beginner, I would recommend either picking Rifleman or Automatic Rifleman, as their functions are primarily just to kill and have no special equipment or ability, although the rifleman does have an ammo box that you can place down. Another good role is Support, as with this role you will be key in building garrisons which are spawn points for your entire team. The Officer will need you close to them so you can place down your supplies and allow them to build a garrison up.
If you cannot decide on what role to take, then just ask the squad leader if he wants a particular role.
Once you've selected your squad and role, you now need to spawn. You can spawn at one of 4 locations. Your HQ, a garrison, an outpost, or an airhead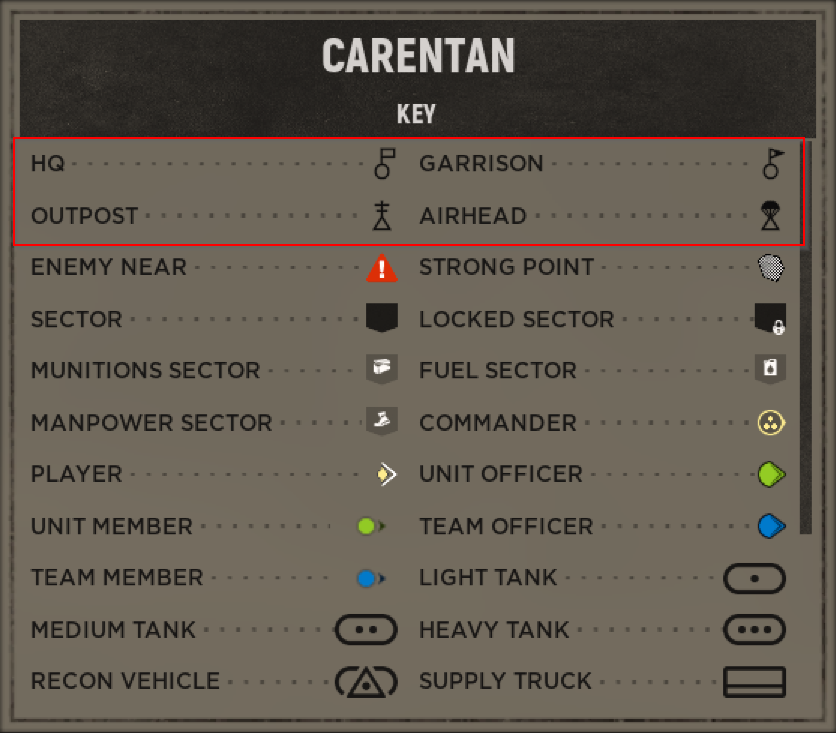 Your HQ is your main base and cannot be taken by the enemy. Your tanks and trucks will spawn on your HQ points.
A garrison is a buildable spawn point that your entire team can spawn on. A Commander, Officer and Spotter can build these, but they need 50 supplies close to them. They can only be built in a friendly "blue" sector, and not within 200 metres of another friendly garrison. If you spot an enemy garrison, you must destroy it. These can only be destroyed in 1 of 2 ways. Going up to it an holding your interact key, or placing down a satchel charge. If you manage to destroy an enemy garrison, it will cripple their ability to get reinforcements in.
An outpost is built by an Officer or Spotter, and it allows their squad to spawn on them. Outposts will have quicker spawn times than garrisons, and they can also be built within the first enemy sector to allow quick deployment to combat. The Spotters outpost can be built anywhere on the map. To destroy enemy outposts, you either need to get close to it and it auto destroys. You can also destroy it with a grenade and a tank shell.
An airhead is a commander ability. They can drop this behind enemy lines, and it acts as a temporary garrison. It is very useful to launch surprise attacks on the enemy. If you are playing as an Officer and you spawn on an airhead, make sure you get down an outpost as fast as you can. You can destroy it by interacting with it.
Now just before we spawn in, you may see some spawn points have a red exclamation mark on them. This means that there is at least 1 enemy unit near it. If you spawn there quickly scan around you for the enemy and take them out. If you see a red garrison marker, then this means this garrison has been disabled and you cannot spawn there due to the enemy being to close.
Now let's spawn in, click on where you want to spawn then click Deploy in the bottom right.